This site is here to contribute to the development of a citation glossary of lexis used in Swahili poetry.
The seeds of project began when I realized that even advanced students of Swahili had difficulty in reading and understanding poetry.  So in general it is intended to provide a resource for the study of Swahili poetry.  In particular it will present a digital anthology and archive of Swahili poetry and a citation glossary of vocabulary used in the poetry.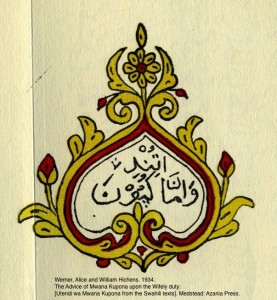 At the present moment, July 2014, content development is in its preliminary stages.  Much of the content is in rough unedited form but as I finish with editing newly translated poetry it will be added as often as possible.  Also, the organization and form of the site is a "beta" version. I am experimenting with the best ways to present the material. At the moment the emphasis of work is on providing a representative sample of texts of poetry and building the basic structure of the glossary.  The menu components are 1) a page or so about Swahili and Swahili poetry, 2) a selection about poets with sub menus containing  their poetry, 3) a glossary which lists vocabulary that is found in the collection's poems, 4) a menu where selected texts, usually in the form of pdfs, can be accessed, and 5) finally a bibliography of works about Swahili poetry.  As needed, other menu selections will be added in the future.
A note on the translations: Many of the poems in the anthology have already been translated and published, but have been retranslated in a form that more closely adheres to the structure of the poem.  The translation is neither literary nor literal, but something I would like to call  "pedagogical" that will enable the intermediate or advanced student of Swahili to understand better the structure, vocabulary, and meaning of the poem.  Also, the translations are not an end in themselves but rather a means to provide clear citations of the meaning of the vocabulary used in the poetry.
If anyone would like to comment on any aspect of the content herein they are invited to participate in a discussion by using the blog features of this WordPress site.  Further if anyone would like to contribute translations they can contact me for further details.
Thomas J. Hinnebusch, Prof. Emeritus of Linguistics and African Languages, Department of Linguistics, UCLA.  Email: hinnebus@humnet.ucla.edu
The illustration above is from Alice Werner's and William Hichens' 1934 edition of The Advice of Mwana Kupona upon the Wifely duty (Utendi wa Mwana Kupona from the Swahili texts Medstead: Azania Press.) A pdf of this work will eventually be available on this site.  A modified translation of the poem, done by me, is available on the the site's poetry page with a glossary.